100%
Phone Safe
There are lots of ways to sanitize your phone, such as with soap, bleach or fire, but there are no completely safe options. Until now. PhoneSoap Charger is the safest and most complete way to kill all the bacteria growing on your phone. It does not use any of the methods that will damage your phone – Just pure, clean light.
No heat
No liquid
No chemicals
Here is How it Works:
UV-C Light kills germs
The two UV-C lamps in PhoneSoap Charger produce a very specific wavelength of light which encompass your phone and pass through the cell walls of bacteria and virus to impair their DNA. Once the DNA is compromised, the cells die and can no longer cause infections or disease. The best part, PhoneSoap Charger kills "SuperBugs" that have developed resistance to the chemicals and antibiotics that used to be effective. Let there be light!
How Effective is PhoneSoap Charger?
Two powerful UV-C lights and a curved, reflective inner surface allow the light to surround your phone to ensure the destruction of any unwelcome guests. While PhoneSoap Charger was created to focus on cell phones, anything you put inside will be safely sanitized. If it fits, it cleans. PhoneSoap Charger only takes 4 minutes to completely sanitize* your phone, and a blue indicator on the front will let you know when the sanitizing is complete. Take a look at the results and see for yourself!
*Based on independent 3rd party test results with staphylococcus aureus.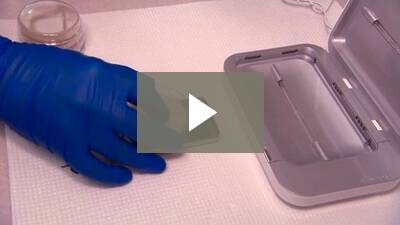 Charge
Any Phone!
PhoneSoap Charger is universal! Designed to fit even the largest smartphones and engineered to charge any phone. PhoneSoap Charger ships with a Micro USB cable, which most phones use to charge. If your phone uses a different connecter, PhoneSoap Charger has a compartment with a standard USB port where you can plug in the cable that comes with your phone.
For example, if you have an iPhone, open the compartment and replace the shipped Micro USB cable with the iPhone cable that came with your phone. You can plug in Apple's Lightning cord, 30-pin cord or any other USB charging cable. It's incredibly simple! If it fits, it cleans. If it plugs in through USB, PhoneSoap Charger will charge it! A green indicator on PhoneSoap Charger let's you know when your device is done charging.
I'm Awake,
I'm Awake!
A lot of us charge our phones at night and use the phone's alarm to wake us up. PhoneSoap Charger has unique acoustic outlets designed to let you hear your notifications and alarms even when your phone is inside! So feel free to leave your phone charging in PhoneSoap Charger overnight or at the office, you will hear your alarm and notifications loud and clear!
So easy to use,
we made instructions.
Step 1:

Lift the lid
Step 2:

Place your phone inside.
Step 3:

Plug in your phone if you want it to charge. (Optional)
Step 4:

Close the lid. Sanitizing begins and ends automatically, taking about 4 minutes. A blue indicator will let you know when the sanitizing is complete.
Step 5:

Feel happy because you won't get sick from your phone.
Step 6:

Tell everyone how happy you are that your phone is clean.
Specifications
Inner Dimensions (Sanitizing Space):
Millimeters: 173 L X 95 W X 20 H
Inches: 6.8 L x 3.74 W x .78 H
Please check your phone dimensions to confirm it fits inside. iPhone 6 / 6s PLUS now fits!
Outer Dimensions:
Millimeter: 216 L x 127 W X 44.8 H
Inches: 8.5 L X 5 W X 1.76 H
Sanitizing:
The sanitizing space was designed to fit even the largest phones. Measure your phone (with or without a case) to ensure it will fit inside. While PhoneSoap Charger was designed specifically for cell phones, whatever fits inside will be safely sanitized. If it fits, it sanitizes! Sanitizing takes about 4 minutes and a blue indicator turns on while your phone is being cleaned, and shuts off when the process is done.
Universal Charger:
PhoneSoap Charger has a standard 5V USB port accessible inside. It ships with a USB to Micro USB cord so that the majority of phones can be charged out of the box. If your phone doesn't use the Micro USB cable provided, it can be removed and replaced with the cord that came with your phone (Such as Apple's 30-pin or Lightning Cable). Any device that charges through USB can be safely charged and sanitized inside. A green indicator will light up while your phone is charging, and turn off when charging is complete.
UV Lights:
2X 254nm UV-C Lamps
Included with Purchase:
PhoneSoap Charger, Power cord, Micro USB cable, USB Charging port (housed inside a cable compartment).
See how different phones and products fit in PhoneSoap Charger
No More
Screen Smudge
Now that your phone is germ free, get rid of those nasty fingerprint smudges and keep them off!