PhoneSoap ExpressPro is a RAPID UV-C DISINFECTION DEVICE for cell phones, tablets, and other hard to clean hand-held items in 30 seconds.  It also tracks which devices have been cleaned and when, so you can ensure your patients and providers are protected. Includes a standard wall mount.
Prop 65 Warning
Prop 65 Warning
WARNING: This product can expose you to chemicals including arsenic, which is known to the State of California to cause cancer. For more information, go to www.P65Warnings.ca.gov
An essential in any professional space.
Touchless operation with a wave of your hand.
Patented technology allows for 360° disinfection.2
Infinity Bulb Technology rated for up to 3 million disinfection cycles.
We've got you covered.
PhoneSoap's warranty obligations are limited to the terms set forth below: PhoneSoap, as defined below, warrants PhoneSoap-branded hardware products against defects in materials, electronics and workmanship under normal use to the original end-user purchaser for the Warranty Period. If a hardware or electric defect arises and a valid claim is received within the Warranty Period, at its option, PhoneSoap will either (1) repair the hardware defect at no charge, using new or refurbished replacement parts, or (2) exchange the product with a product that is new or which has been manufactured from new or serviceable used parts and is at least functionally equivalent to the original product, or (3) refund the purchase price of the product. PhoneSoap may request that you replace defective parts with new or refurbished user-installable parts that PhoneSoap provides in fulfillment of its warranty obligation. A replacement product or part, including a user-installable part that has been installed in accordance with instructions provided by PhoneSoap, assumes the remaining warranty of the original product or thirty (30) days from the date of replacement or repair, whichever provides longer coverage for you. When a product or part is exchanged, any replacement item becomes your property and the replaced item becomes PhoneSoap's property. Parts provided by PhoneSoap in fulfillment of its warranty obligation must be used in products for which warranty service is claimed. When a refund is given, the product for which the refund is provided must be returned to PhoneSoap and becomes PhoneSoap's property. For more information on extended warranties, contact sales@phonesoap.com
DIMENSIONS
ExteriorLength15.5 inches (39.4 cm)
Width4.5 inches (11.4 cm)
Height12 inches (30.5 cm)
Sanitizing Bay
Length11.13 inches (28.3 cm)
Width1.75 inches (4.45 cm)
Height7.5 inches (19 cm)
BULBS
Quantity16 22cm, 2 12cm
TypeGlass tubes
UC-V Frequency254nm
BULBS
Quantity16 22cm, 2 12cm
TypeGlass tubes
UC-V Frequency254nm
POWER
Line100-240V AC
Frequency50Hz to 60Hz
PlugType A
IN THE BOX
ExpressPro
Power Adapter
Mounting Plate
Clinical Evidence
PhoneSoap engages in a rigorous testing process for all its devices prior to release. In addition to standardized testing, we perform studies on actual phones and tablets with multiple pathogens in isolation as well as in combination. ExpressPro has undergone laboratory testing at each stage of development. The most current iteration has achieved an average reduction of 99.999%* against MRSA using the ASTM E3135 standard which includes simulated soiling.
PhoneSoap ExpressPro is a rapid UV disinfection device for cell phones, tablets, and other hard to clean hand-held items. As hospitals and medical centers transition from paperwork to electronic forms, new protocols should be put in place for sanitation. With a disinfection cycle of just 30 seconds, ExpressPro is an incredible addition to any facility to help ensure your professionals and patients are protected from the spread of harmful pathogens. For an overview of UV sanitation effectiveness, see the studies and white papers below.
Evidence of PhoneSoap Efficacy
Journal of Hospital Infection
- The effectiveness of germicidal wipes and ultraviolet irradiation in reducing bacterial loads on electronic tablet devices used to obtain patient information in orthopaedic clinics: evaluation of tablet cleaning methods. Journal of Hospital Infection. Vol 105, Issue 2, pp 200-204; June 1, 2020. https://doi.org/10.1016/j.jhin.2020.04.014
A randomized blinded trial was conducted of tablet cleaning strategies in orthopaedic clinics. UV-C disinfection was found to be equivalent in efficacy to germicidal wipes.
American Journal of Infection Control
- Shining a Light on the Pathogenicity of Health Care Providers' Mobile Phones: Use of a Novel Ultraviolet-C Wave Disinfection Device. American Journal of Infection Control; Vol 48, Issue 11; pp1370-1374. November 1, 2020. https://doi.org/10.1016/j.ajic.2020.05.040
Total bacterial colony forming units were reduced by 99.9% with the use of a novel UV-C device. In light of the ongoing coronavirus (COVID-19) pandemic, UV-C phone disinfection is a valuable tool for preventing healthcare-associated infections.
American Nurse
- Mauzey, S. (2020, August 31). UV-C: A tool for disinfecting mobile devices https://www.myamericannurse.com/uv-c-a-tool-for-disinfecting-mobile-devices/
Smartphones, tablets, and other mobile devices are being used with increasing frequency in healthcare, but protocols for cleaning them aren't keeping pace. This project demonstrated that using a UV-C disinfection system effectively reduces mobile device contamination.
White Paper
PhoneSoap White Paper: UV-C Light and the Disinfection of Mobile Devices
Microbial contamination is a constant concern and challenge in healthcare environments — on solid surfaces as well as mobile equipment like cell phones and tablets. Through rigorous laboratory testing, PhoneSoap ExpressPro UV-C device has been proven to be equally or more effective at eliminating microorganisms on cell phones and tablets and many times more expedient than germicidal wipes. Download Whitepaper
Evidence of Cell Phone Contamination
American Journal of Infection Control
- Use of portable electronic devices in a hospital setting and their potential for bacterial colonization. American Journal of Infection Control (43) 2015; 286-8 https://doi.org/10.1016/j.ajic.2014.11.013
Cell phones and tablets are increasingly being used in the hospital setting. These devices represent a potential reservoir for the transmission of pathogens. We conducted a convenience sampling of devices in 2 large medical centers and quantified bacterial colonization rates.
Reconstructive Review
- Dissemination of Pathogens by Mobile Phones in a Single Hospital. Reconstructive Review: An Open Access Journal. Vol 7, No 3; September 2017. DOI: https://doi.org/10.15438/rr.7.3.192
Mobile phones are frequently used in the hospital and operating room settings, regardless of their microbial load. The results of this study demonstrated that 82% (41/50) of mobile phone touch screens possessed polymicrobial organisms and 30% (15/50) of mobile phones possessed pathogenic organisms.
So easy to use, anyone can do it.
We've shared our disinfecting technology with homes across the world, and now we're bringing our consistent 360° disinfection to the healthcare and professional realms.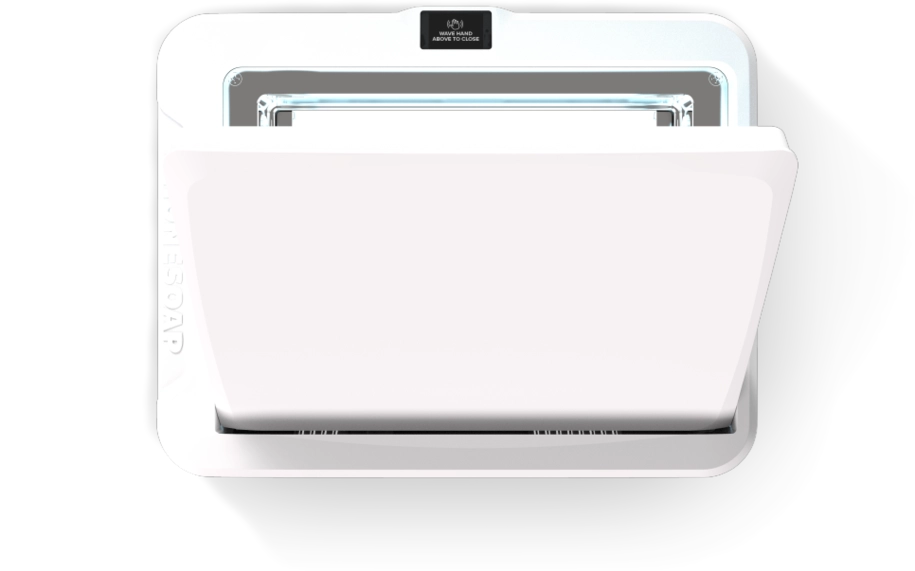 The proof is in the publishing.
View case studies to see how independent researchers validate our disinfection claims.
Deploy with ease.
Mount your ExpressPro anywhere you can put a monitor - such as a wall, computer on wheels, front desk, or roller stand. Attachable feet allow you to easily place the ExpressPro on a desk or countertop.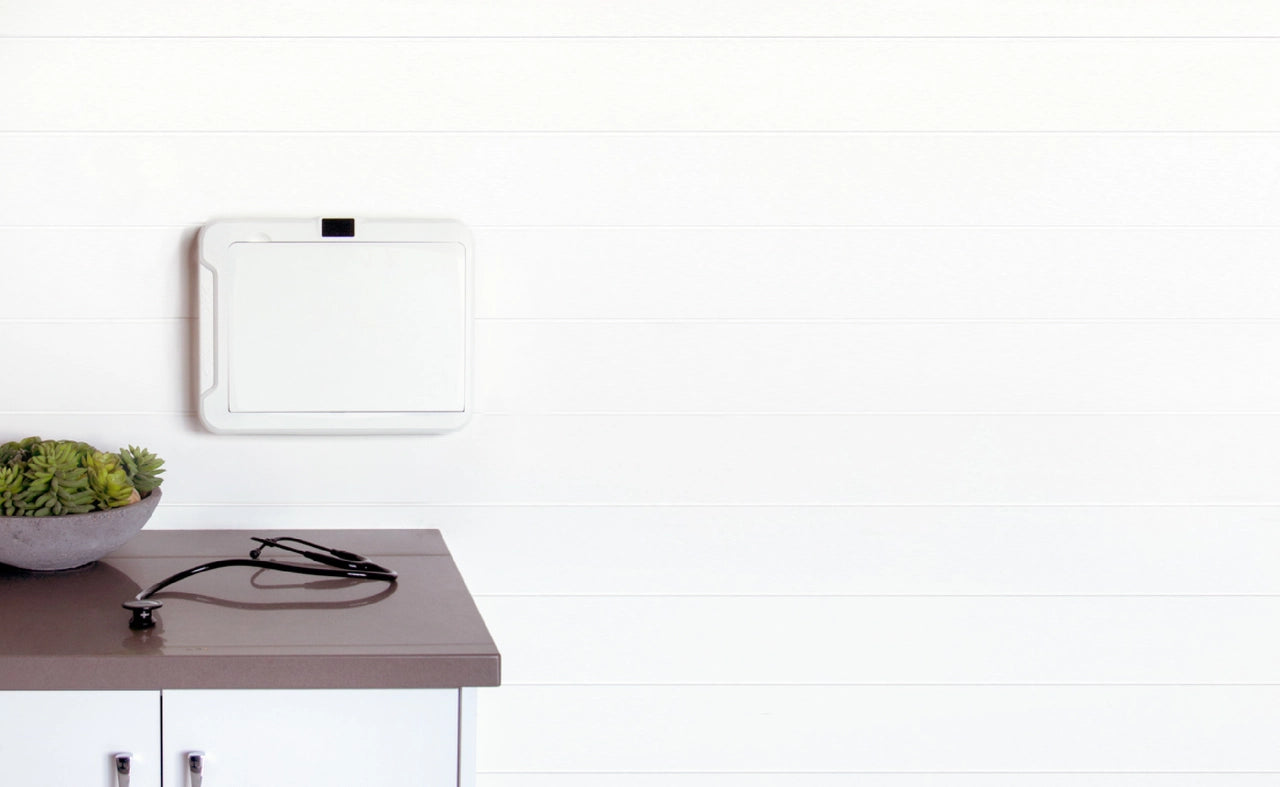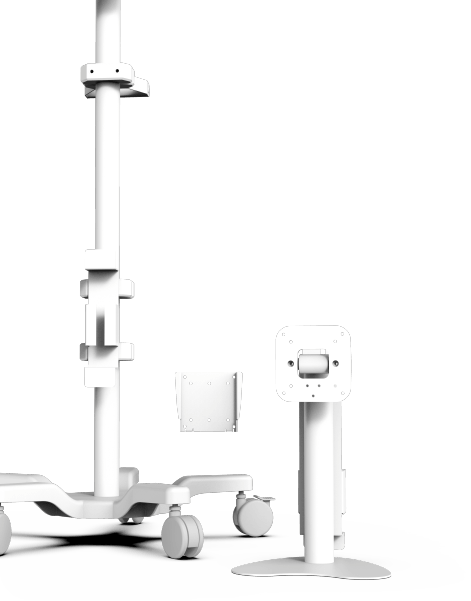 Mount, position, or place anywhere.
The ExpressPro's mounting feature allows you to use your ExpressPro literally anywhere, whether that be above a toilet, in an operating room, or on a stand in a sports stadium.
Kiosk
Sanitize your hands while you sanitize your phone. Comes with a space to hold a hand sanitizer.
Roller Stand
Take the ExpressPro with you wherever you go.
Desk Stand
Easy use for any desktop setup.
Wall Mount
Utilize your empty wall space in any setting.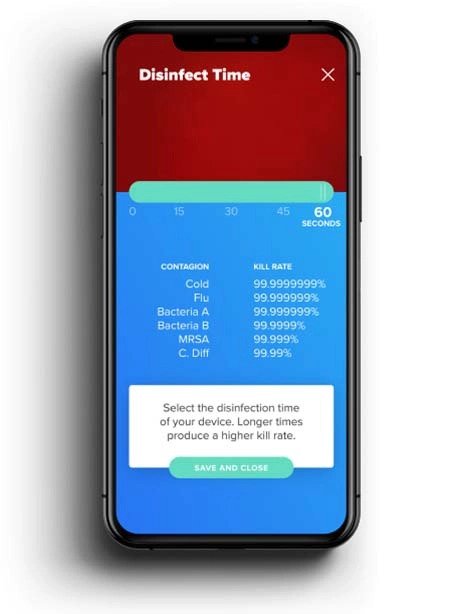 Set kill rate.
Adjust the length of time the ExpressPro will take to sanitize your devices with a range of 15 seconds to up to 10 minutes.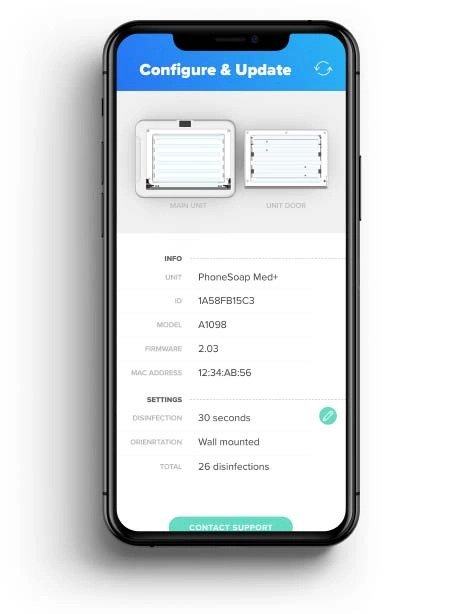 Monitor cycles.
Keep track of how many disinfection cycles your ExpressPro has conducted.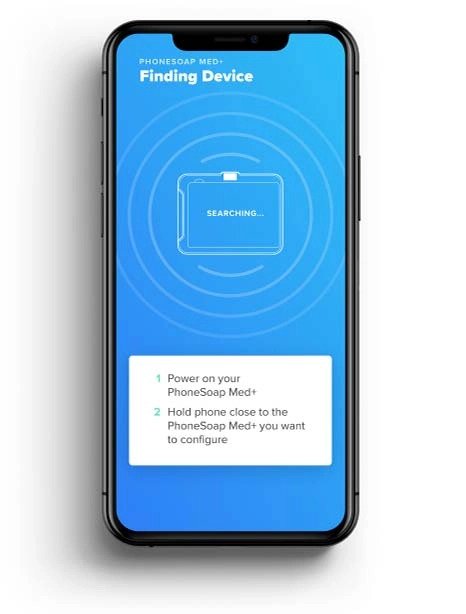 Update settings.
Easily update your device and personalize settings like auto disinfection and auto door modes.
"[ExpressPro], which was well received by hospital staff and patient families, provided a convenient, consistently effective method for disinfecting mobile devices"
"In our study, UV-C light was effective in nearly eliminating the total and pathogenic bacterial load found on phones. UV light's role in the medical field is rapidly expanding."
Bulbs to believe in
Built with our patented Infinity Bulb Technology, you could use ExpressPro 100 times per day for about 7 years before replacing a bulb.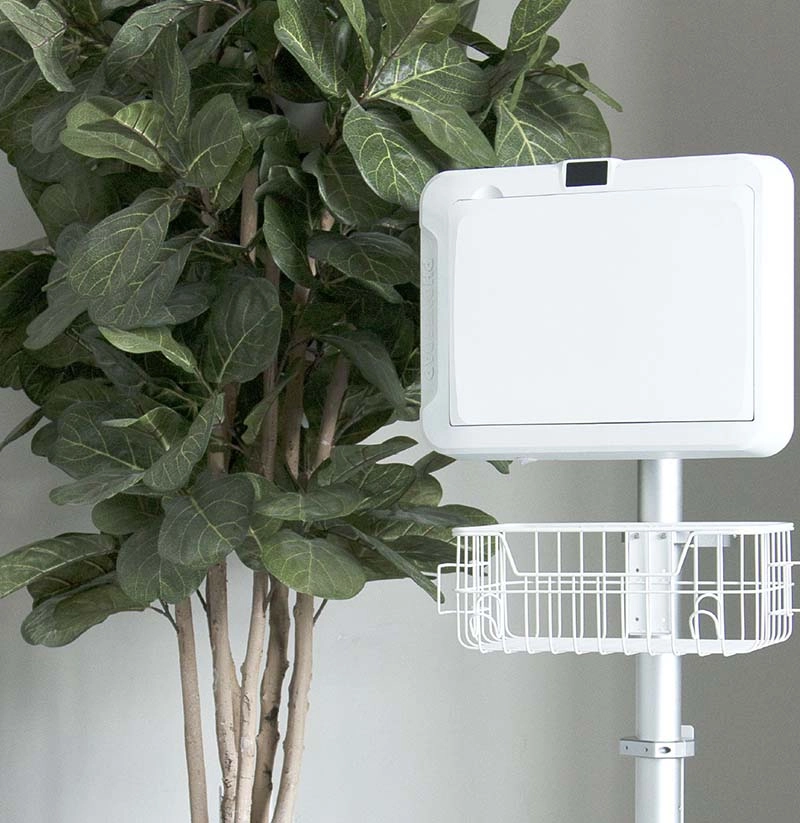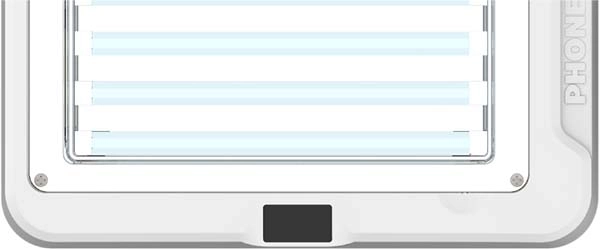 25,000 hours of disinfection
Keep it simple by keeping replacement parts to a minimum. ExpressPro bulbs can deliver 25,000 hours of glowing performance—that's up to 3,000,000 disinfection cycles.
Let's get in touch.
We'd love to show you how the ExpressPro can keep your surroundings sanitized and those around you healthy.
One of our customer specialists will be in contact within 24 hours.
Request a quote or more information.